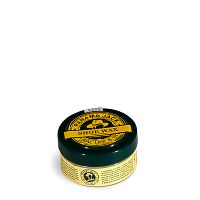 Grease jar (50 ml) that nourishes and protects greased leathers to prevent cracking and provide more durability and flexibility.
Tips:
Clean the surface of the leather with a damp cloth and you will get a better result.
Before use, test on a small area of a concealed part of the leather, because in some cases the tone may darken.
Once the grease has penetrated the leather of your Panama Jack boots gently wipe the surface in small circles for a polished finish.
Avoid applying in velour or nubuck leathers, because you may lose that soft velvety finish.